Making money from your website isn't a myth. It's doable by anyone.
In fact – turning a part-time, hobby blog or website into an income-generating asset is fairly common with a bit of luck and some hard work.
At the very least, you should be able to make enough to cover your basic expenses for a domain and hosting. You might even be able to replace your income (and then earn some more).
Keep in mind that the strategies listed below range from easy and passive, to the ones which require a TON of on-going work (so make sure you pick something that suits your site and lifestyle preferences).
1. Pay Per Click Advertising (Google Adsense)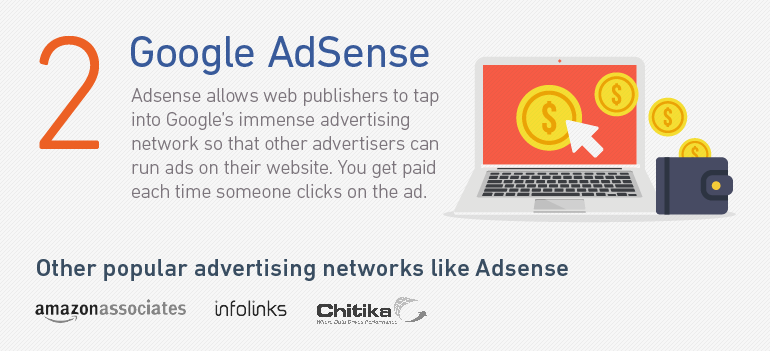 AdWords are the advertisements that show up on the top of Google search result pages.
AdSense is the reverse, allowing publishers (which includes bloggers and other website owners like yourself) to tap into Google's immense advertising network so that other advertisers can run ads on their website.
The best part about this system is how simple everything is.
Once you sign up, Google will place a simple code on your website that will identify the content of your site and start displaying relevant advertisements. For example, if your site is about pets (dogs & cats), Google AdSense will start showing your visitors ads for cat food, dog training and more.
You get paid each time someone clicks on the ad. (Yes, it's really that easy!)
Your cut might be anywhere from $0.50 to $5 per click. When your site has enough traffic, you can make hundreds (if not thousands of dollars) each month.
2. Affiliate Marketing (.. and affiliate links)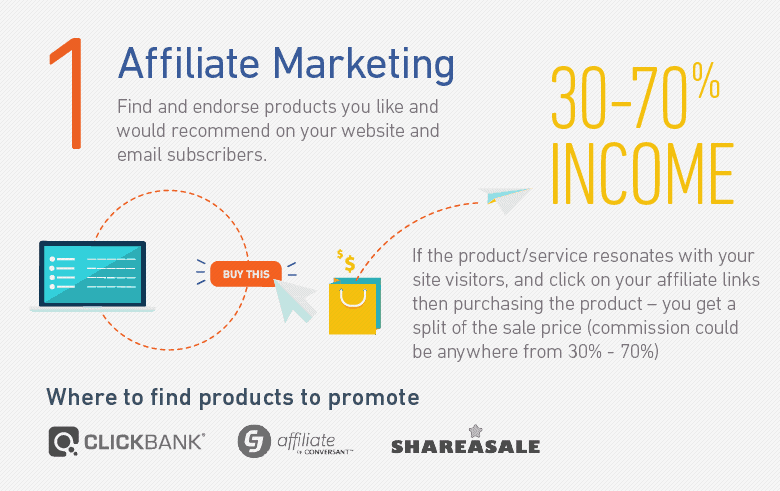 Affiliate marketing is one of the most popular (not to mention quickest) ways to make money from your website or blog.
Start by finding a product you like and would recommend. Then on your website, you endorse the product and promote it to your website visitors and email subscribers. If the product or service resonates with these people, they'll click on your affiliate link, purchasing the product (while you get a split of the sale price).
The commission might be anywhere from 30% of the product or service price, up to as high as 70%. For example, if the split is 50% and you promote an e-book that costs $100, you'll get $50 for simply referring the buyer. Pretty sweet deal
3. Sell Your Own Digital Product (Ebook for Example)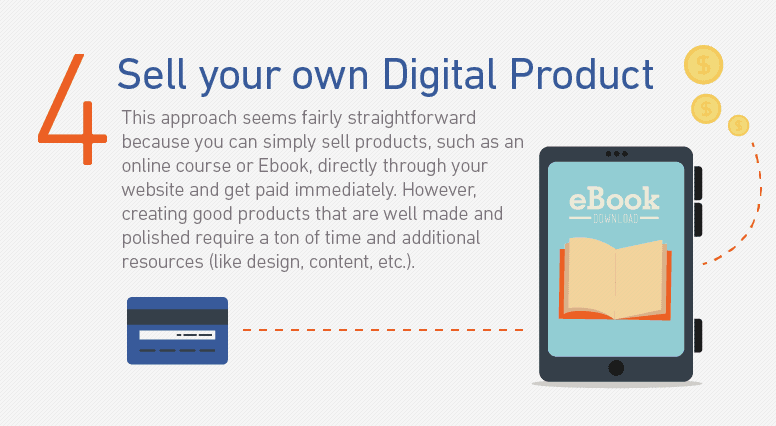 You have the potential to make the most money on a per sale basis when you can sell your own directly.
That's because there's no middle-man or person in between you and the buyer that's taking a 'cut' from the money earned.
This approach seems fairly straightforward because you can simply sell these products directly through your website and get paid immediately. Unfortunately, it's not that simple in reality.
Creating good products that are well made and polished require a ton of time and additional resources (like design, content, etc.). There's a lot of 'hidden costs' in both time spent and the contractors to collaborate with. Selling your own products on your site also brings up problematic issues like payment gateways (how are you going to collect payment?), shipping (how are you going to mail or distribute the products?) and taxes (oh man, don't even get me started with that one!).
If it doesn't sound like enough work already, you'll also need a well designed, persuasive landing page to make sure your product has a strong conversion rate.
Their are other many choices to make money online but this are the 3 ways to get quick money with Little Efforts.